The CSSS de Laval Users'Committee welcomes you.
---
On this web site, you will find information to help you understand the committee's role and help it can bring you as a user of health and social services.
Knowing your rights and responsibilities is important. The Users' committee was created to guide you in your efforts of information and provide the help you need.
We listen to you and we want to help you confidentially. This service is free and is run by volunteer who have your interests as user at heart.
To help you as much as possible, we invite you to contact us. We will be please to answer to your questions.
In addition, you will find information about the CSSS de Laval Residents' Committees. du CSSS de Laval.
The Users'Committee is here to help you.
---
---
Rights & responsibilities
Know your rights and your responsibilities as users of the health network and social services.
Become volunteer
Join a dynamic team of proactive volunteers for the well-being of users.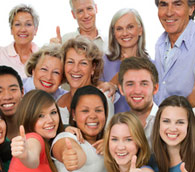 References
Readings for users.